Quimera Motorsports and MBI Racing win GSREC 12 Hours of Daytona!
By GSR Admin Team on February 12, 2017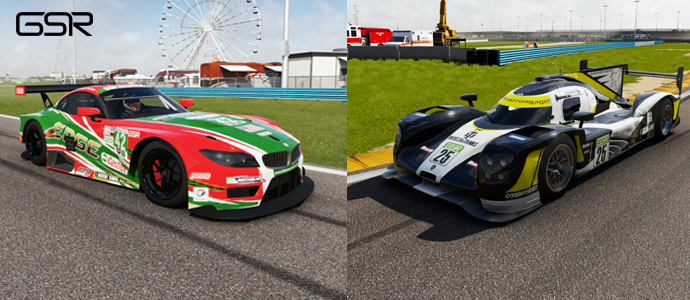 DAYTONA, FL - The # 25 Quimera Motorsports Porsche, driven by Manuel CR and ASQ BerpDator, drove 2,288 kilometers to capture the overall race win in the 2nd annual GSR Endurance Championship 12 Hours of Daytona. In the GT Class, the #42 MBI Racing BMW, with drivers Nightmare x24x, CCRO Green, and Woody17x successfully defended their 2016 win, driving 2,074 kilometers.

A full report will follow.
12 Hours of Daytona Unofficial Results:
P1:
1. #25 Quimera (Manuel, BERP) - Porsche - 2,288 km
2. #1 Samkel (Mav, SAMSON) - Audi - 2,263 km
3. #8 FCA (Grd, BLONDE) - Toyota - 2,246 km
4. #7 Redbird (BCK, Dan, Topgear) - Toyota - 2,196 km *
5. #30 Ardent/SECR (RIECK) - Audi - 1,874 km
6. #118 TBA (Ema) - Audi - 362 km

GT:
1. #42 MBI (GREEN, Nightmare, Woody) - BMW - 2,074 km
2. #68 2old (NASTIES,Nightstalker, Drivebye) - Mercedes - 2,063 km
3. #77 PPRL (BLAZE, Eddie, Topper) - Mercedes - 2,051 km
4. #74 420 (SMOKEZ) - Audi - 2,047 km
5. #59 SECR (MIKE,Mission) - McLaren - 2,009 km
6. #60 SECR (Copper, MARKO) - McLaren - 1,995 km
7. #69 2old (Patrick, O351, Sarverious) - Mercedes - 1,974 km
8. #33 Rattlecan (CHARGER) - Chevrolet - 1221 km
9. #84 MSG (BIGMAC) - Ford - 1068 km *
10. #52 Northwest (Mc dabins) - Chevrolet - 857 km
11. #43 MBI (Hippie)- BMW - 229.2 km
Overall Results (unofficial)
1. (P1) #25 Quimera (Manuel, Berp) - Porsche - 2,288 km
2. (P1) #1 Samkel (Mav, Samson) - Audi - 2,263 km
3. (P1) #8 FCA (Grd, Blonde) - Toyota - 2,246 km
4. (P1) #7 Redbird (BCK, Dan, Topgear) - Toyota - 2,196 km
5. (GT) #42 MBI (Green, Nightmare, Woody) - BMW- 2,074 km
6. (GT). #68 2old (Nasties,Nightstalker, Drivebye) - Mercedes - 2,063 km
7. (GT) #77 PPRL (Blaze, Eddie, Topper) - Mercedes - 2,051 km
8. (GT) #74 420 (Smokez) - Audi - 2,047 km
9. (GT) #59 SECR (Murphy,Mission) - Mclaren - 2,009 km
10. (GT) #60 SECR (Copper, Marko) - McLaren - 1,995 km
11. (GT) #69 2old (Patrick, o351, Sarverious) - Mercedes - 1,974 km
12. (P1) #30 Ardent/SECR (Rieck) - Audi - 1,874 km
13. (GT) #33 Rattlecan (Charger) - Chevrolet - 1221 km
14. (GT) #84 MSG (BigMac) - Ford- 1068 km
15. (GT) #52 Northwest (Mc dabins) - Chevrolet - 720 km+? (stint 2 km missing)
16. (P1) #118 TBA (Ema) - Audi - 362 km
17. (GT) #43 MBI (Hippie) - BMW - 229 km