Murphy Goes California Cruisin' at Long Beach
By GSR Admin Team on February 19, 2017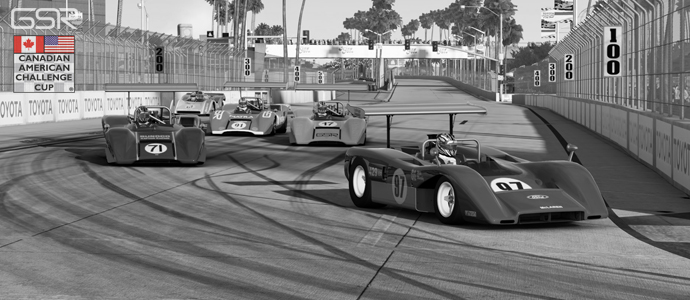 LONG BEACH, CA – When the sun rose over the Los Angeles Metro Area Sunday Morning, a disturbing absence was immediately noted. In the middle of the night, the MBI Racing transporters had suspiciously left the paddock. While reports vary as to where they were headed (most sources point to Daytona, FL), the impromptu departure left a depleted field of 5 cars.

However, as they say in nearby Hollywood, the show must go on.
Following an impressive qualifying performance to put him on pole, the #97 McLaren of Murphys Laawl took an early lead. Behind him, the #71 Lola of BCKracer71 was able to steal second place from the #17 Lola of TopSoCalledGear and mount a charge to challenge the leader.

After 4 laps of being chased, the lone McLaren dove in for an early pit stop, sacrificing the lead to the Sunoco Lola. However, this strategy would pay dividends for Murphy's Laaawl, as a clean track and little pressure from behind allowed him to emerge well in front of the field when the pit sequences had played out. When the checkered flag fell, Murphys Laaawl had taken his 7 th career GSR victory, and become the only second driver to win a Can-Am Challenge Cup race this season.

"Well, with only five racers it was a pretty quiet race." said race winner Murphys Laaawl. "My only concern was the start and hoping for a clean getaway. Then I pitted early because I was constantly messing up and missing my marks. All in all, it was a pretty decent race. Also, that was me behind the wheel, I'm 100% certain that it wasn't Nightmare." he said with a laugh.

The battle for second remained up for grabs in the remainder of the race, with BCKracer briefly emerging ahead of a pit-exiting TopSoCalledGear to take the position. However, the #71 Raptor Racing Lola spun after hitting a curb wrong in the next turn and gave the spot back.

The 1969 Can-Am Challenge Cup will return in two weeks ( ) at 12:00 PM EST, as they travel up the Pacific Coast Highway for Round #5 at Laguna Seca Raceway.
Results:

1. #97 Murphys Laaawl – McLaren
2. #17 TopSoCalledGear – Lola
3. #71 BCKracer71 – Lola
4. #67 GRD 4 3L – Nissan
5. #91 Dakinca91 – Lola
Points:
1. #24 Nightmare x24x – 96
2. #71 BCKracer71 – 72
3. #97 Murphys Laaawl – 69
4. #67 GRD 4 3L – 64
5. #18 Bloodtypr0wdy – 58
6. #17 TopSoCalledGear – 55
7. #40 Manuel CR – 48
8. #88 TB12GOAT5XSBWIN – 47
9. #42 Dead Arm Tzar – 37
10. #91 Dakinca91 – 29
11. #5 Mr Blonde V – 24
11. #2 Z7COLTONZ7 – 24