Nightmare Victorious at Laguna Seca
By GSR Admin Team on March 06, 2017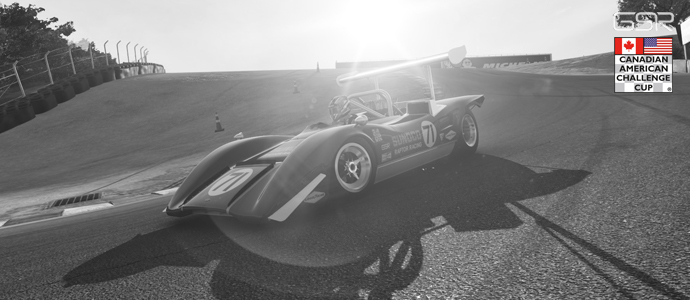 MONTEREY, CA – A week off from Can-Am Challenge Cup competition by MBI Racing did little to hurt the #24 McLaren driven by Nightmare x24x. The Ohio native racked up pole position and the fastest lap on the way to his 5 th win of the season.
The race started with a frenzy of action, with Sunoco Raptor Racing driver BCKracer71 braking late in the Andretti Hairpin to stay close to the race leader. Unfortunately, the #71 Lola was unable to sufficiently slow down and collided with the rear of the race leader, sending the #71 into the gravel. Nightmare would emerge unscathed.

The remainder of the race saw a total of 1 on-track position change (GRD over BCKracer71 for 5 th), with Nightmare only sacrificing the race lead for a handful of laps due to a pit stop. The win gives him a 38 point advantage with 3 races remaining, well ahead of the #97 Hulman-Moody McLaren of Murphys Laaawl.

The 1969 Can-Am Challenge Cup will return in two weeks (March 19th ) at 12:00 PM EST, as they head to Upstate New York for round #6 at Watkins Glen.
RESULTS:
#17 Nightmare – McLaren
#2 Colton – McLaren
#97 Murphy – McLaren
#17 TopGear – Lola
#67 GRD 4 3L – Nissan
#71 BCKracer71 - Lola
POINTS:
#24 Nightmare – 128
#97 Murphy – 90
#71 BCKracer71 – 87
#67 GRD 4 3L – 80
#17 TopSoCalledGear – 72
#18 BloodtyprOwdy – 58
#40 Manuel Cr – 48
#2 Colton – 48
#88 Hippie – 47
#37 Dead Arm – 37
#91 Dakinca – 29
#5 Mr Blonde V – 24