Spin Cycle: Nightmare and Dead Arm Survive Snetterton
By GSR Admin Team on March 14, 2017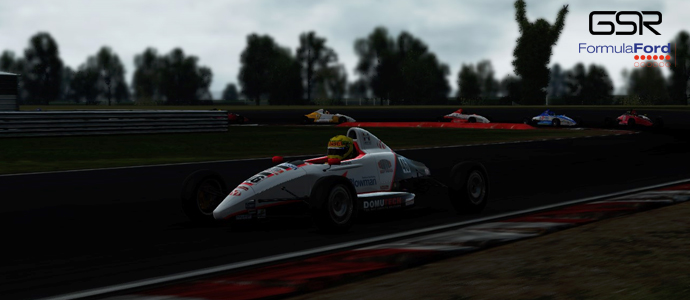 NORWICH, UK - As the GSR Formula Ford series arrived at Snetterton, known for it's "Scary tree" near the turn 2 hairpin, there was another scary thing happening throughout the weekend: Unstable race cars.

The nature of the track and car made it incredibly difficult to keep the final corner as the "New" Hell corner on the circuit, where drivers turn right for what seemed like forever until they approach an impossible 90 degree left hander. Thankfully, there's enough runoff room to make Hermann Tilke smile with joy if a driver get's it wrong. All the drivers knew this was going to be an issue going into both races today.
For race 1, Nightmare started on pole and in typical Nightmare fashion, took home the win by 26 seconds. Rounding off the podium was THR WildWin7 in 2nd and colibrimb2 in 3rd. In unrelated news to the finish, Murphys Laaawl ended up in 10th with 3 tires on the car after contact with Throwawaygra71. He managed to complete the second half of the lap at a blistering speed of 15 mph. We tried to get a word with him, but he was too busy celebrating a 10th place finish.
In race 2, Nightmare once again was out front but pushed it too much in the middle of the race and ended up in a single-car accident which resulted in some damage. This handed the lead over to THR WildWin7 and to Dead Arm, where he and Nightmare battled on track in the closing laps with Dead Arm holding off one of the legends in GSR. We both talked to Dead Arm and Nightmare following the race, and here's what they had to say:
Dead Arm: "A good haul of points today helping me secure second in the championship. Race one didnt start too well, but clawed my way to fourth. A good battle with Wild & Nightmare in the second race and i was pleased to hang on for the win. Can't wait for Silverstone, shame this series is almost over."
Nightmare: "Overall a pretty bittersweet day for the MBI team. We started out strong being able to capture the pole for both races and get the w in race 1. I feel I let our guys down in race 2. Had a strong start and was in cruise control until I caught a little too much curb leading onto the backstraight which sent me into the wall with some RF suspension damage. Ended up with a decent finish out of it regardless, but definitely not what we were looking for."
The series wraps up its final two races of the season at Silverstone on March 25th on the National Circuit.