1964 USAC: Nightmare wins Indy!
By GSR Admin Team on May 10, 2017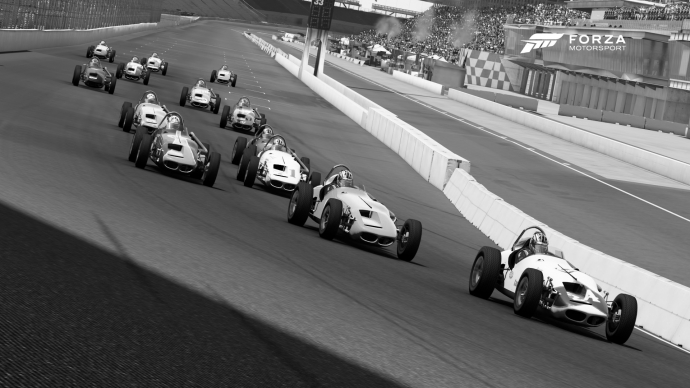 INDIANAPOLIS, IN – The 1964 USAC season reached its climax Sunday morning, as a field of thirteen Watson Roadsters partook in the fourth running of GSR's annual Indianapolis 125 mile race.
After a weeklong qualifying event, Nightmare x24x claimed the pole with a daunting speed of 158.322 MPH. While he remained the odds-on favorite to cross the yard of bricks first, a race still needed to be run before a winner could be crowned.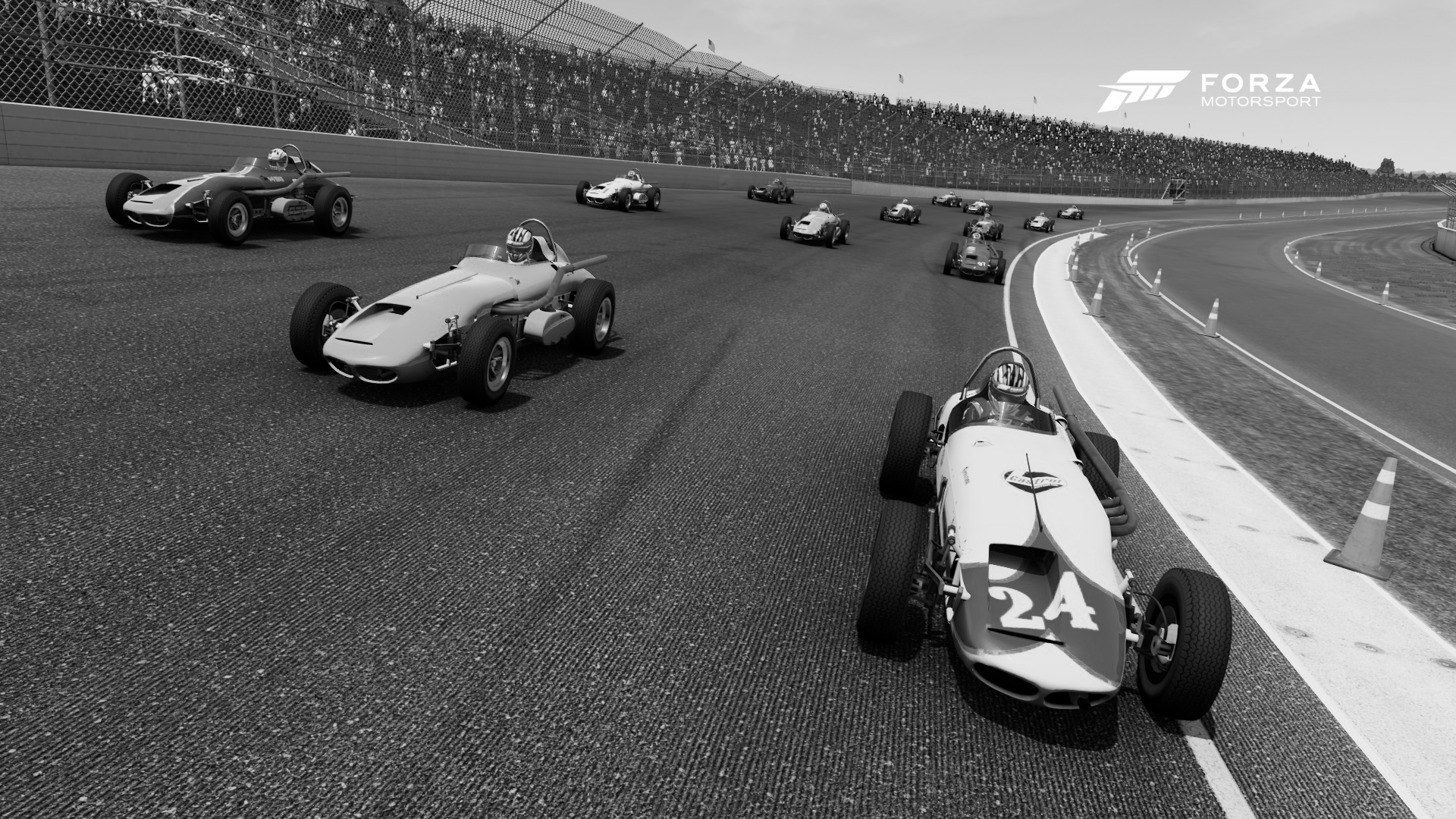 The 125 miles began to a surprisingly clean start, with cars running two and three wide for the majority of the first 10 laps.

"That racing was incredibly close for a while." Said Raptor Racing driver BCKracer71, who advanced from 6 th to third on the opening lap. "I have no idea how we didn't have a serious wreck with the amount people were sliding around. That's what happens when everyone gives each other room and doesn't force anything."

The battle from second through seventh remained especially close, with over 20 position changes occurring in the first quarter of the race.

"It was a fun race, car was a bit squirrelly on new tires but once they got worn in with a few laps, the car felt amazing. Me and GRD had a great battle for position." Said Murphys Laaawl, driver of the #97 Nuka-Cola Special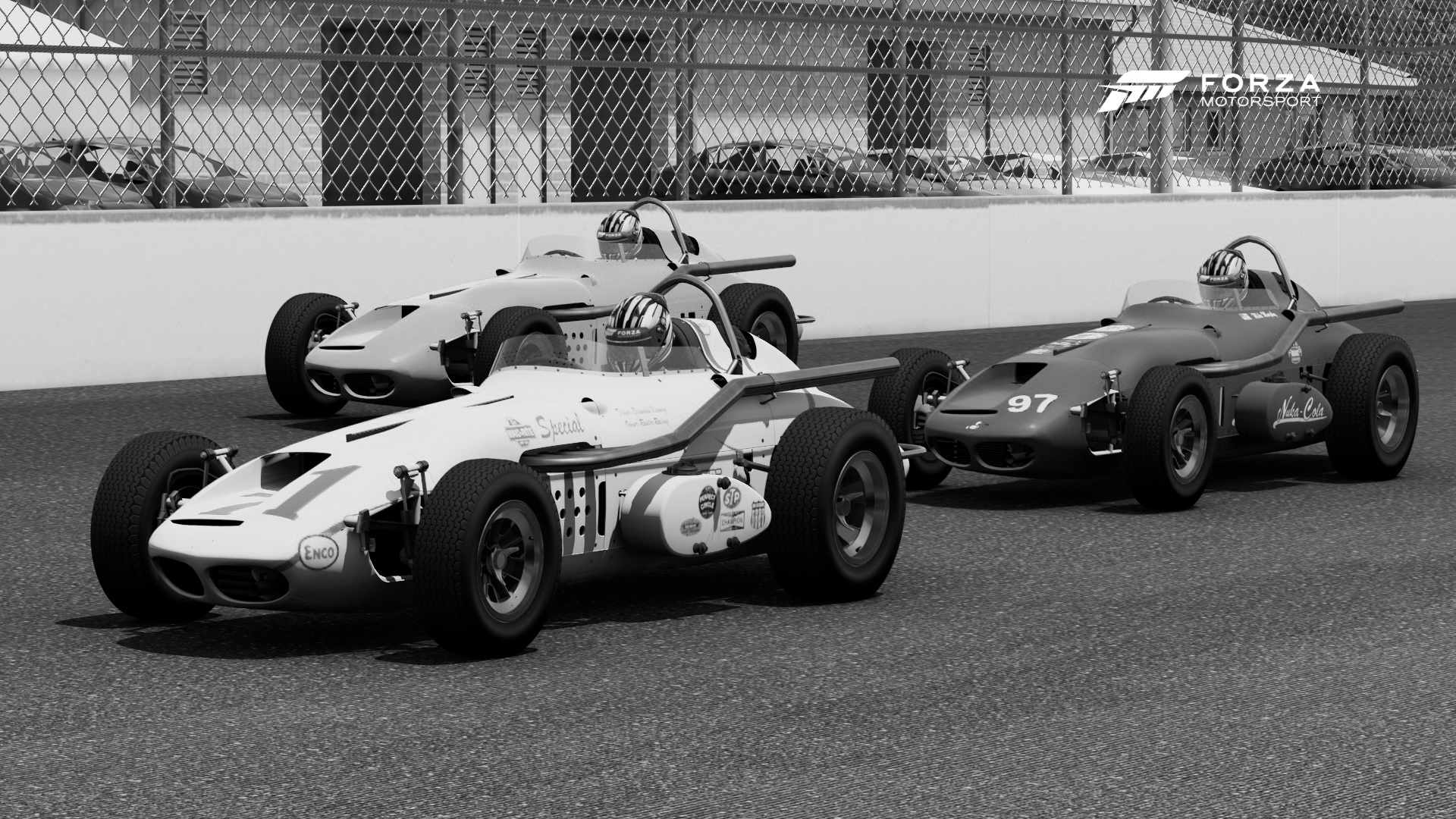 Nightmare's run hit a serious snag on lap 11, when the car understeered at the exit of turn 4 while attempting to pass a lap car. What seemed like a race that would be decided by minutes suddenly became a free-for-all, even more so after BloodtyprOwdy's yellow #18 machine dropped out with a failure.

Remarkably, Nightmare was able to overcome a nearly 40-second deficit to get within reach of the leaders with only a handful of laps left. The #24 Castrol sponsored roadster first passed Murphys Laaawl for second, and then leader GRD 4 3L (after a late race pit stop) to capture his 170 th GSR win and drink the milk for the third time.
"Thrilled to bring the Castrol #24 into victory lane after a pretty tough race." said 1964 Indianapolis 125 winner Nightmare after emerging from his Watson roadster. "We got off to a great start and was able to pull a decent gap to the cars behind when they were sorting themselves out the first few laps. I chose to pit early so we could come out in clean air and I could put some good laps together. It worked until I caught the wall out of 4 and punctured the right front and had to pit again. Thankfully the guys brought me an absolute rocketship and I was able to battle back to the front during the long green flag run we had."
GSR's 1964 USAC National Championship will return May 21 st for an event at the Indianapolis Motor Speedway's Grand Prix circuit, the only road course's on the series calendar.


Results:
1. #24 Nightmare x24x
2. #97 Murphys Laaawl
3. #67 GRD 4 3L
4. #71 BCKracer71
5. #5 PFM Charger
6. #17 TopSoCalledGear
7. #74 nSmokez420
8. #11 CocaGamer11
9. #56 ClydeYellow
10. #44 MissionBULLITT
11. #42 Dead Arm Tzar
12. #91 Dakinca91
13. #18 BloodtyprOwdy18