DTM Brings the Action to Oschersleben
By GSR Admin Team on July 12, 2017
When the GSR DTM boys left the Nurburgring two weeks ago, a lot of buzz was generated from the event. Hoping to capitalize on it, the Motorsports Arena Oschersleben played host in rounds 5 and 6 for the DTM championship. An open test session was held Thursday which consisted both MikeScott Autosport drivers of Murphys Laaawl and MissionBULLITT, and dakinca91 from the First Capital team.

The fastest lap time was put down by Murphy with a blistering 1:24:840, and the common theme throughtout the session was tire wear.

"I think this will be the first race where everyone will have to pit because this track doesn't like tires"
Murphy said, "It should make for an interesting race 2."

"Strategy will play a huge role. When to pit, what tires to put on, how long would they last? We'll find out come Saturday" dakinca91 reported.

When raceday came, Murphys Laaawl sat on the pole for race 1, his second pole in the DTM series this season. He sat in the prime position to get away since Oschersleben is infamously known for its dreaded turn 1, lap incidents. We'll have more on that later.

On the first lap, Murphy pulled away from the field but made a costly mistake leaving his DRS flap open going into the triple left hander. Dakinca made the most of Murphy's error as he passed him for the lead, with Murphy and Lifehigh hot on his tail. For the entirety of race 1, it was a three car battle for the lead which eventually turned into a two car battle once Lifehigh got around Murphy.

"The tires were shot from pushing so hard" Murphy explained, "I just didn't have the grip I needed in the end to mount a charge on Dan."

It was too little, too late for Lifehigh as he took command of second on the last lap, but couldn't get around dakinca for the victory. This made it three in row for dakinca after sweeping at the Nurburgring two weeks ago.

We caught up with both drivers at the end of race 1 before they buckled in for race 2.

Dakinca: "Couldn't catch Murphy in qualifying, but I knew after practice that realistically p2 was the best start for me. Both of us had a decent start but nobody was pulling ahead. Then I just settled in and was running consistently. Murphy made a small mistake which opened the door for me and I was able to capitalize and maintain the lead and take a victory."

Lifehigh: "Race 1 had an awesome battle for second that included going two wide through the chicane a couple times. I just needed maybe 1 or 2 more laps to make a pass on dakinca. Overall, really fun racing in race 1."

With the podium celebrations out of the way, it was time for race 2 which started at night in-game. We mentioned earlier about turn 1, lap 1 incidents, and although the drivers were lucky to make it unscathed in race 1, race 2 had a different result unfortunately.

When the lights went out, everyone made it cleanly going into turn one until a car spun and created a pile-up in the middle of turn 1. The cars scattered, with one car going head-on into the wall, and drivers were trying to be cautious through the area but also picking up positons where they can. The car of Throwaway was the car that made contact with the wall, and we tried to get a word with him but he made a quick exit and stormed off the racetrack.

When dust settled and everyone came by to complete lap 1, the top three finishers from race 1 were 1-2-3 respectively when they came by us.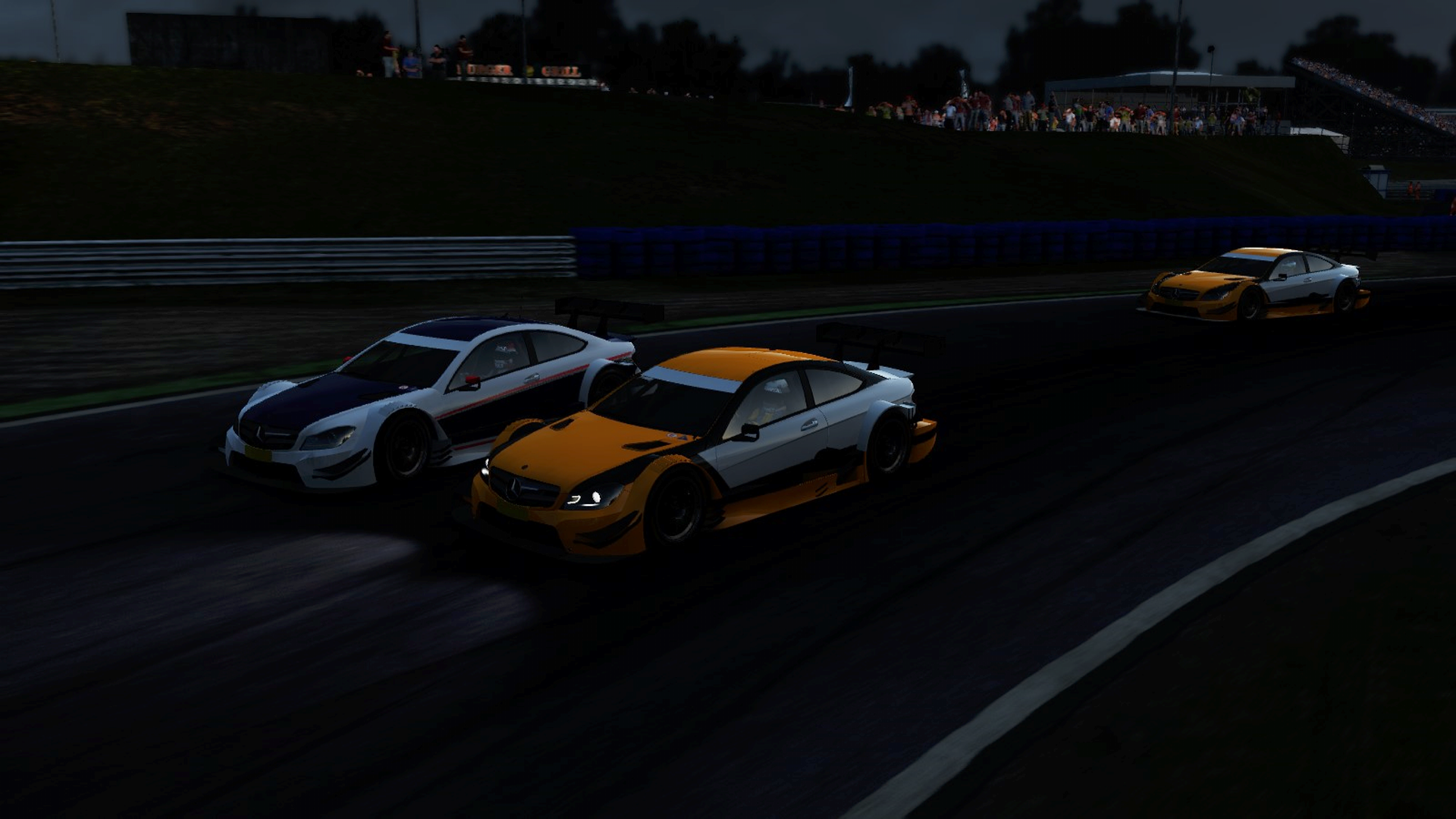 Race 2 was 25 laps long, which put a demanding load on the tires. Just about everyone had the mediums on and were trying to make them last until they hit their window to pit. The race leader around the mid-stage of the race was Murphys Laaawl, with dakinca right behind in second.
Dakinca was the first to pit on lap 13 and he opted to put on the mediums. Murphy came in two laps later, but he opted to put on the softs with 9 laps remaining. With Dan putting the pressure on him, Murphy had to take of his tires while maintaining the lead. He almost lost it going into the hairpin after Hotel when Dan forced it up the inside, but this eventually cost Dan later as he got a time penalty for cutting the track. In the end, it was just enough for Murphy to hang on and claim the victory in race 2, with Dakinca and LMP Basher rounding out the podium.
We caught up with all three drivers to discuss their thoughts on today's events.
Murphy: ""First off, thanks to Dan for racing me clean, that race cause it was a blast. I know he got into me in one of the corners but it hurt him more than me. Anyway I'm definitely going to cherish this win in race 2. It started off pretty crazy when everyone piled up in turn 1. Thankfully I started at the rear so I managed to pick up a lot of positons there. Made my way up to third at the end of the opening lap and a couple laps later found myself in the lead. At that point, I just was taking care of the tires while also keeping Dan behind me. The real tricky decision was when to pit and what tire compound do I go on? When I pitted on lap 15 coming to get 16 with 9 laps remaining, I only figured that the softs may have slight advantage. If I had to do it over again, I may have chosen the harder tire but in the end, I came out on top. I will admit that I was lucky since Dan got a time penalty which abled me to pull a gap on him, cause my left front was shot coming to get the white flag."
Dakinca: "Race 2 was the most fun I've had in a while. I was not the fastest car and luckily avoided the huge turn 1 crash. But strategy paid a huge role.I tried an undercut after staying about 2 seconds behind Murphy for the first half of the race. I gained about a second but didn't pass. I knew if I kept the pressure on him he might make a mistake. He pulled out to a huge lead of about 5 seconds but I caught up and tried to pass. Went wide but was so much fun."
LMP Basher: "Sprint race was messy for me. Got hit from behind in first corner and made lots of stupid errors afterwards. 25 lap race started with false start resulting in drive through penalty. Did not change tires nor refuelled and left it like that for the whole race. 1 set of tires and a full tank. At one point this resulted in me being in 3rd position when others were pitting. Lifehigh999 was getting really close in the last few laps with fresh tires but failed to reach me on the end."
After we finished with the podium celebrations, we went around the paddock for post-race thoughts from the other drivers.
Mission: "This was a very tough weekend, from not getting in a qualifying time to mistakenly being in-gear and incurring a drive thru penalty in race one, nothing really went according to plan. Race two had a much more promising outlook as I managed to get one of my almost trademark worthy start as I was able to pick my way past the turn one melee into the lead after turn 2. Unfortunately that was the highpoint of the run. It came down to a few good battles in the middle of the race, and at the end I had a really fun 3/4 lap duel with BCK where I managed to edge him out for a fifth or sixth place finish to salvage the weekend."
BCK: "I got lucky with the first turn carnage and was looking pretty good for a top-5 until the last lap. TopGear exited the pits directly between me and BULLITT, and didn't quite have the pace to keep up, so we both ended up going off track. A cut track penalty put me right in the way of the AI cars of the leaders, which was ugly and sent me back to 7th. A fun race overall, though."
TopGear: "Race one didn't really go my way. Crashed into the back of someone lap 1 and drove around with damage the entire race. I was still battling for p5 at one point though. Race 2 I started last and good thing because turn 1 was absolute chaos. I slowed up to avoid every spinning car and wound up p4 after a couple laps. When I pitted I was p3 but the podium wasn't to be as I got stuck behind a lot of cars that hadn't pitted yet. Then with 3 laps to go I realized that I hadn't put enough fuel in the car."
We tried to get a word with Mr Blonde, owner of First Capital, but he was left speechless with today's activities.
That does it for DTM at Oschersleben. In two weeks we'll be in the city of Brno when DTM takes on the Brno Circuit, a track that's beloved in the GSR community. Will we a different winner from the field? Find out on July 22nd for rounds 7 and 8 at Brno!
Results:

Race 1:
1. dakinca91
2. Lifehigh999
3. Murphys Laaawl
4. Colibrimb2
5. Throwawaygra71
6. Z7COLTONZ7
7. TopSoCalledGear
8. BCKracer71
9. LMP Basher
10. Dead Arm Tzar
11. MissionBULLITT
12. DEFURIOU5
13. Mr Blonde V

Race 2:
1. Murphys Laaawl
2. dakinca91
3. LMP Basher
4. Lifehigh999
5. MissionBULLITT
6. TopSoCalledGear
7. BCKracer71
8. Colibrimb2
9. Dead Arm Tzar
10. Z7COLTONZ7
11. Mr Blonde V
12. Throwawaygra71

Points (Through Round 6 of 14):
1. dakinca91 - 153
2. Dead Arm Tzar - 122
3. Murphys Laaawl - 116
4. Lifehigh999 - 107
5. MissionBULLITT - 94
6. Throwawaygra71 - 86
7. BCKracer71 - 85
8. Colibrimb2 - 74
9. TopSoCalledGear - 73
10. Mr Blonde V - 69
11. Xl MAVERICK lX - 54
11. LMP Basher - 54
13. Canadian 2Four - 39
14. DA TOPPERHARLEE - 35
15. Z7CLONTONZ7 - 26
16 DEFURIOU5 - 9