Prelude to the 12 Hours of Spa
By MrMarko1100 on October 12, 2017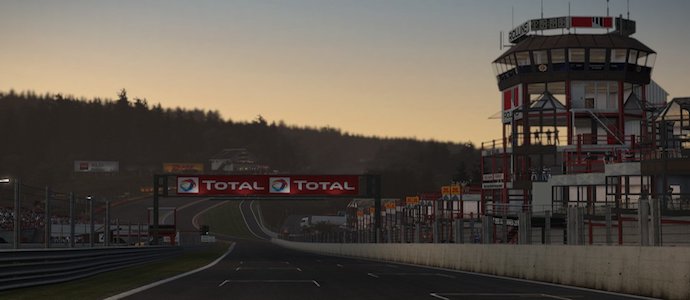 2017 Global Sim Racing Endurance Championship – Round 5 – Spa Francorchamps 12Hrs
The fifth round of GSREC 2017 sees the circus head towards the Ardennes countryside in Belgium to the Circuit De Spa-Francorchamps. The current layout of this track measures at 7.004KM.
Most people know Spa for being a fast flowing old school drivers circuit, with corners such as Eau Rouge, Pouhon, and Blanhimont to name just a few and this Saturday sees a mixture of both LMP1 and GT3 cars and teams coming to tame this track and win in their respective classes. New for this year is the race time has been extended to 12hrs rather than the previous 6hrs which has only gone to please many of the teams, as it gives more time to race around this famous track .
As we are now reaching the business end of the season championships are now being taught of. The top 3 teams in the LMP class are separated by 13 points, while the top 5 teams are still mathematically in with a chance of taking the title. Last seasons winners Samkel are out in front with 89 points, Redbird Racing sit in Second with 84 points, and in third are Ardent/SECR with 76 points.
We caught up with a number of the drivers from the LMP class who had these things to say.
Dakinca91 of RedBird Racing:
"We know the Toyota's have a pace disadvantage and a top speed disadvantage against the Audi's . This weekend is all about damage limitation. We will be very strong at Road Atlanta but need to salvage a good weekend in the penultimate race. 12 hours gives us an advantage I think because that allows more of a chance for the teams in front of us to have issues. I've ran a decent amount of practice in the Simulator and feel confident in the car but we just need to get lucky with weather and accidents and we should be there, or thereabouts at the end of the race."
We sat down with RedBird Racing's other driver BCKracer71 and told us this:
"Everyone at Redbird Racing is full steam ahead to beat the SamKel guys. We're only 5 points out of the championship lead and into our meat of the schedule, so we're feeling pretty good about our chances if we can get through the last two races without any incidents."
Following this we sat down with Samkel Racing's Maverick who told us this:
"SamKel racing has been hard at work preparing for the 12 Hours of Spa, while also evaluating their plans for next season. Last year was a tough break, but we're hopeful that we can be a little stronger this year. We have the car dialed in, the pit strategy figured out, and we think we're ready for a competitive sprint."
Sadly no other Lmp teams had media slots available as they were all filling sponsor commitments and getting set up for this weekend.
In the GT3 class the SECR #60 car leads the way with 105 points. In second place is the SECR #59 car with 81 points, third place is the number 77 PPRL car with 57 points. The GT3 class can actually be sown up this weekend by last year's winners, the SECR #60 car if they score 6 or more points than the #59 car. We sat down with both teams.
Chunt04 of the 59 car had time to give us this quick statement:
"Spa has always been one of my favorite tracks. You can't beat it with all the history, speed and beautiful scenery. It's truly a one of a kind race track. We are hoping to have a good result here to bring the title fight down to the line at the final round of the season."
Following this we sat down with Copper Nuts of the #60 car who told us this:
"We have done all our testing and we have our strategy planned out for all eventualities . We are aiming to get the win in this race which will seal the title for us with one round remaining. We are really aiming to get it won this weekend as that will put myself and my co-driver MrMarko into the GSR history books as the first team ever to win an endurance title twice in a row in either class which, would take that honour away from Samkel in the LMP class as they are chasing it aswell."
We had hoped to get an interview with series newcomers who had a great showing in the previous round at the Nurburgring in the GT3 class, Global Speed Stars, but after having car issues before making the journey to the round, they weren't able to make it. They hope to have the car sorted for the final round at Road Atlanta in December .
All that is left now is for the race to get started as the clock ticks down to what is hoped to be a close exciting race for the entire field .