GSR GT4 Eurasian Cup – Season Preview
By MrMarko1100 on October 21, 2017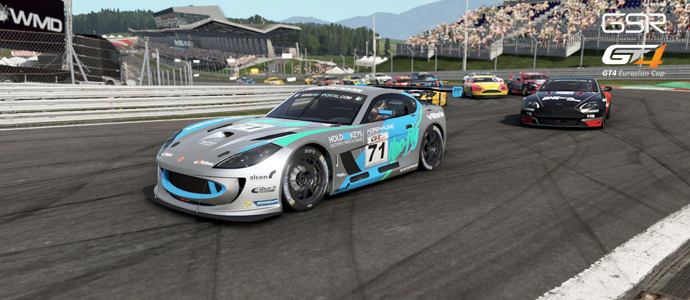 This weekend sees the first round of the Global Sim Racing GT4 Eurasian Cup and the League's first foray into Project Cars 2.
With a race calendar spanning across the length and breadth of Europe and Asia going as far north as Scotland's tight and technical Knockhill circuit to the equally tight and technical Ruapuna Park circuit down in the southern hemisphere in New Zealand. With many other stops of in some of Europe and Asia such as the Red Bull Ring in Austria, Nurburgring in Germany to the Mt. Fuji GP Track in Japan.
GT4 cars have been around for several years now but have only become more mainstream in the last few years thanks to many national GT series running the GT4 class cars which has lead to international series and intercontinental series. The cars themselves are practically mini GT3 cars with less tuning involved in them making them more road going compared to their GT3 counterparts, but nonetheless they are still race ready machines that will take some taming.
With cars from manufacturers such as Ginetta with their G55, Aston Martin having the Aston Martin Racing V8 Vantage and Porsche with the all new Cayman GT4 Clubsport to what some people are calling the wacky KTM X-Bow GT4 and Ford's Mustang RTR GT4 there really is a car for everyone. Fans will be able to recognize the cars of the models theyhave seen driving on the public roads, which makes it more appealing to the public also.
Many seasoned teams have signed up to the series with a number of them running two car operations such as First Capital Autosport using the new KTM X-Bow GT4 as are the duo of LMP Basher and Dead Arm Tzar who have yet to get the commercial rights to name their team. Global Speed Stars have secured themselves two GT4 Spec Toyota GT-86 for this season to use . South East Coast Racing have parted ways from their Ginetta GT4 cars and have got the use of a pair of Aston Martin V8 Vantage GT4 cars to use . Along with these two car teams there is a wealth of well known teams running just single car entries with the likes of Samkel having Maverick in a Ginetta, MBI Racings Nightmare in a Ginetta and Welty in the Optimum Motorsport Ginetta Gt4.
This series comes at quite a perfect time for any newcomers who are eyeing up A GT3 drive next year as we are sure some of the big teams will be on the lookout for some talented drivers to try to sign them up for next year's GSR Endurance Championship (GSREC) in the GT3 class or the LMP1 class.
Many of the teams have arrived a few days early here at the Red Bull Ring getting in some last-minute testing to learn as much about these new cars as possible.
At the season opening drivers press conference we got these quotes from a few drivers and teams
Throwawaygra71
"We've had a few good series recently, but this one I think is going to be a really good match and some close racing. I'm gutted I'm missing the opening race due to a finance issue so we are going to go testing this weekend instead. Cobs racing will be using two cars this season with a new sponsor deal with porsche, colibrim will be driving the Porsche and I will drive the ginetta.
Usually, with regard to practice I will try and run some race length runs to check fuel, practice pit stops and try different lines. As for hopes for the season, just that the numbers stay high."
Dead Arm Tzar
"Team Ardent Racing have secured purchase of two new KTM machines for the GT4 series. Sadly, due to an administration error, our team entry wasn't secured in time to ensure full participation in the event. It's deeply disappointing for the team and for myself and Basher but we will have to travel to the races with the prospect of not making the starting grid."
Jagdpanther0224
"GSS is fighting overheating Gremlins with the GT86 at the moment so expect one of two things from us . Either we are incredibly fast but pit alot, or we blow up and burn to the ground on the side of the track. Either way we die like men."